Multi-channel marketing is the key to an effective advertising campaign.
The key to an effective campaign is getting your message in front of your customers. Ask any marketing professional: The way to do this is by showing your message on multiple channels. This article will give you some insight on how to get the most of your advertising dollars. You will also learn how Digifli delivers the power and convenience of digital with real-world distribution.
Most local small business owners use a handful of popular advertising and marketing channels, the most successful ones use a combination of several in tandem.
Traditional Advertising Channels:
Local newspaper and magazine ads.
Printing and distributing posters, flyers, and postcards.
Sponsorship of local events.
Billboards and banners.
Radio or local Television spots.
Digital Advertising Channels:
Social media advertising. (Facebook, Instagram)
Search engine Pay-Per-Click ads. (Google)
Websites and blog posts.
Event listings. (Eventbrite)
Lead acquisition and review sites. (Yelp, Yahoo! Local)
Make Digifli part of your 2020 Marketing Campaign.
Traditional Advertising
One of the most popular traditional methods for small business is print. Print media like flyers, posters, and advertising in local publications lets you target a specific demographic in a specific area. Ask any publisher or ad agency and they will tell you the key to a successful ad is to run it over and over again.
People need to see the same brand (or offer) multiple times before it makes a lasting impression. Traditionally they say seven views are required for someone to actually take action.
With print, you get thousands of copies printed and distributed in the real world. Print media is still a valuable channel and is rated as the most trusted source of information by consumers. It is an essential part of a complete strategy. In the East Bay, local papers like The East Bay Express and Alameda Sun are great ways to target local residents with print.
Outdoor is still rated on the higher end of consumer trust. Outdoor advertising (billboards/transit ads/posters) can be effective, although for many businesses it is cost-prohibitive. A billboard can easily run $5000 a month in a busy city like Oakland. Posters are slightly less expensive but printing costs and distribution can be a challenge.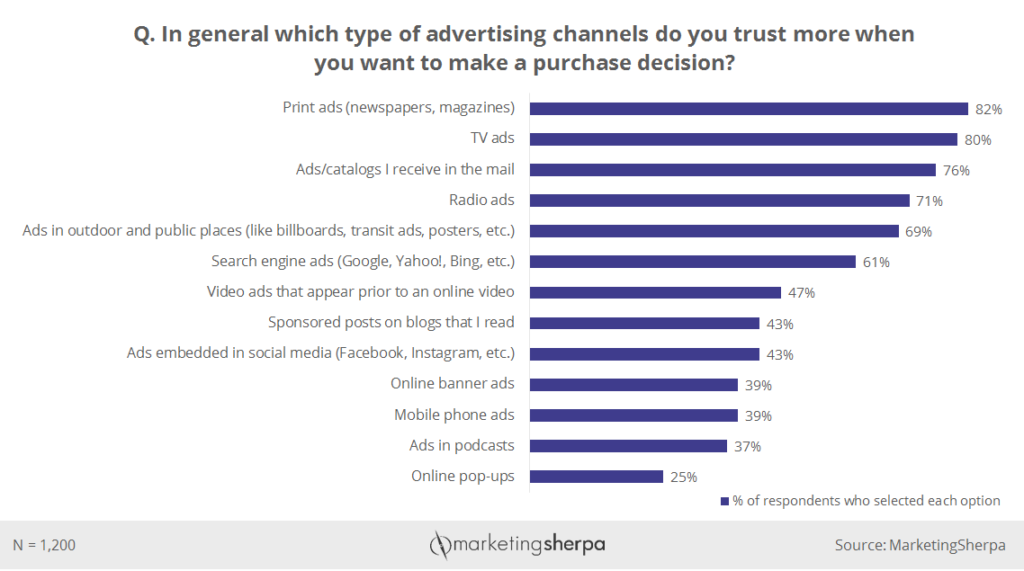 Print Media Strengths and Weaknesses
As mentioned above, some of the strengths of print media are distribution, targeting, trust, and having a presence in the real world. However, limiting your advertising to this one channel would cause you to miss out on a huge segment of the market.
Only readers of these local publications, (or drivers who pass your billboard) will see your ad. Many readers are casual and might only pick up a weekly paper once a month. Postcards and flyers can sit in a shop and overlooked by the majority of the patrons. By relying on a single channel, it could easily take someone a year before they saw your offer seven times.
To be truly effective you need to get your brand in front of people in multiple ways, commonly referred to as multichannel marketing.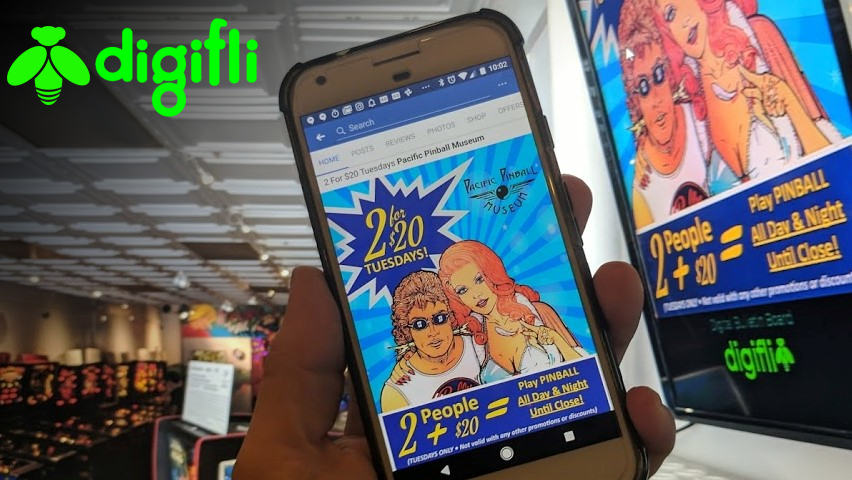 Digital Marketing
Digital advertising provides a very cost-effective way to reach specific demographics. You can target specific geographic areas (aka geo-targeting) and user interest with social media advertising. Google allows you to run pay-per-click ads that appear when people search for a specific term in a specific city. Digital provides great ways to reach people via their screens in the virtual world.
Digital saves money on producing physical material and simplifying distribution. It is a critical component of a successful marketing strategy. To be effective, you must present the same message, branding, and artwork across all channels. If your customers see your add in the East Bay Express, then see the same ad on Facebook – that greatly enhances the impact of your brand. This is far more effective than just seeing the same ad twice in a single channel.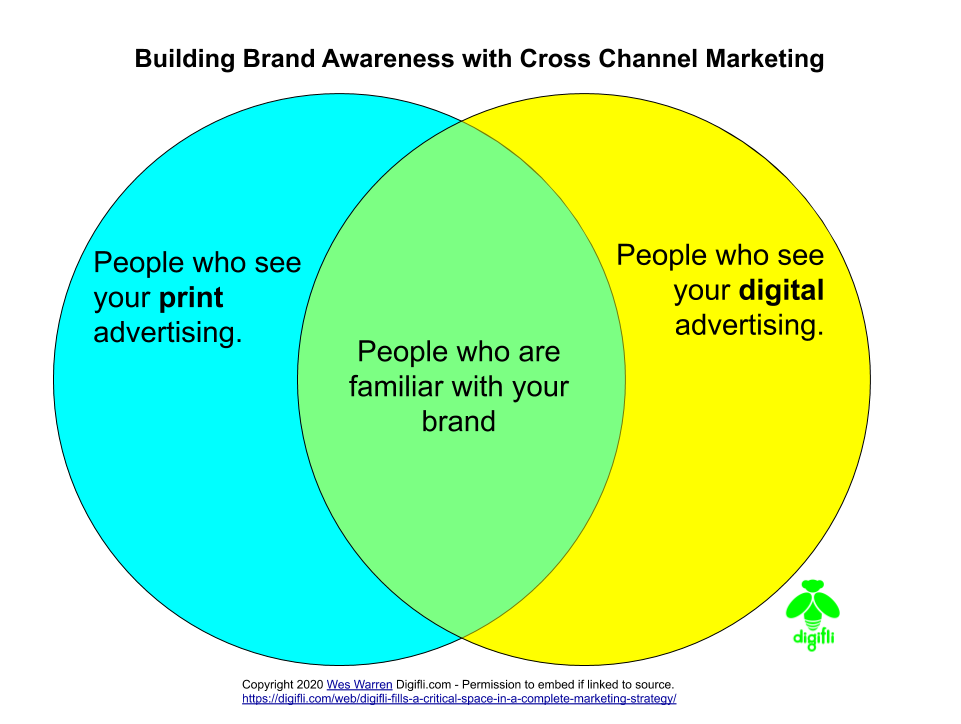 Digital advertising alone is less effective than cross-channel marketing.
For many business owners, the alure and ease of accessibility to digital advertising makes it their primary channel. But just boosting ads periodically is not an effective use of marketing dollars. It can be beneficial in the short term, but this is the most expensive form of digital marketing.
Digital advertising has the lowest trust score among consumers. Traditional forms of advertising like outdoor, radio, and newspapers rank much higher. There is so much advertising saturation online, your message needs to be seen much more often to actually get noticed.
All this being said, digital advertising is a critical component of a complete marketing strategy. It can greatly reinforce your brand awareness and give customers a way to directly interact with your offer. Users seeing the same message in the real world and on their phones and tablets will familiarize themselves with your brand more quickly than either channel alone.
Digifli bridges the gap between digital and traditional.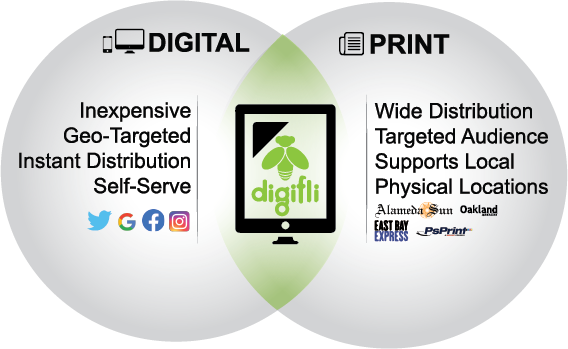 Digifli electronic community bulletin boards deliver the best of both worlds. Local digital billboards reach your audience like never before. Digifli has over 100 electronic bulletin boards installed in the East Bay. They show vibrant colorful digital posters in high traffic shopping districts like Temescal, Jack London, Downtown Oakland, Downtown Alameda, Piedmont Avenue, and Laurel District just to name a few. Kiosks are located in local independent businesses like taprooms, restaurants, boutiques, and art galleries.
Target the neighborhoods and locations where your customers live, work, and play. Digifli combines the ease and savings of digital advertising with the targeting and trust of local distribution. Manage your campaign online and handpick where your ads will show.
Make Digifli part of your 2020 Marketing Campaign. Learn More.
Electronic Community Bulletin Boards
WHERE DIGITAL MEETS THE STREET!
www.digifli.com | East Bay |
Source material and Further Reading: