Digital Fliers = DigiFli
Pronounced "di-jah" like "digital"+ "fly" like "Flier"
Digifli is the modern version of the coffee shop bulletin board. Instead of pinning up a printed flyer, you distribute your flyer to hundreds of locations in seconds with a few clicks.
Pretty cool right! You don't know the half of it, keep reading.
Digifli screens are viewed by thousands of Bay Area shoppers and diners every single day, and we are talking about the cool ones who actually support local businesses, eat at local restaurants, and are part of the community.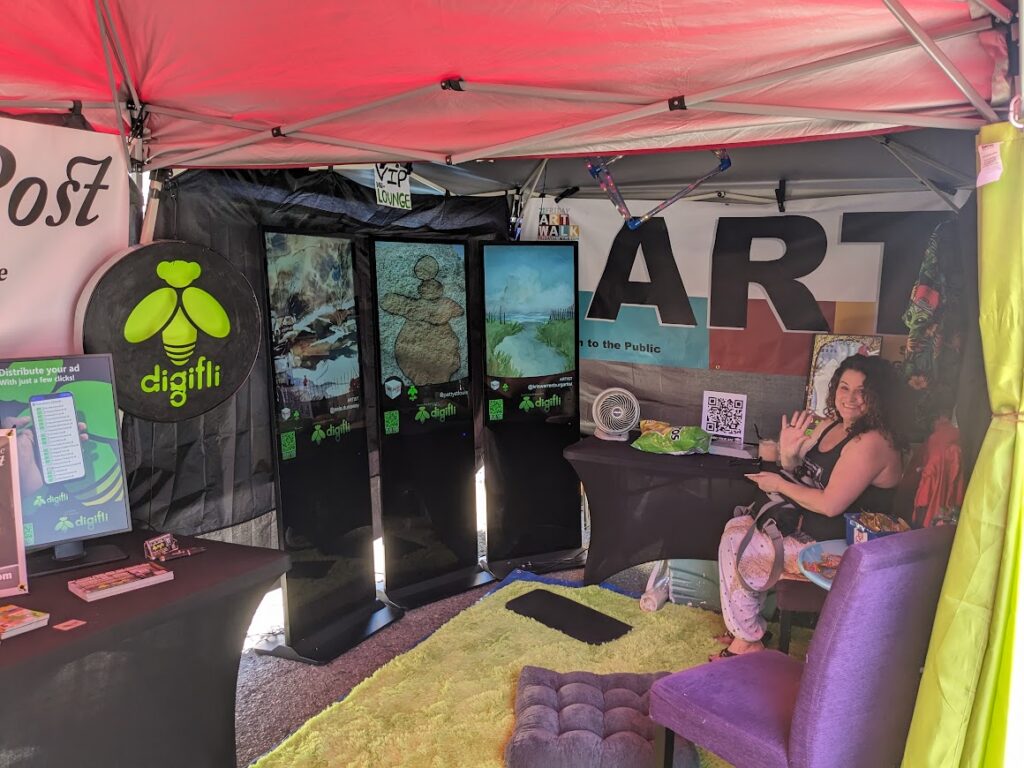 Digifli provides screens to over 170 locally owned businesses in Oakland, Alameda, Hayward, Emeryville, and Berkeley. You will never see a Digifli in Taco Bell or Walmart. You will see them in places like Books Inc, Flax Art Supplies, Speisekammer, Souley Vegan, Creative Reuse, Faction Brewing and many other amazing local East Bay locations.
Digifli supports local nonprofits, local artists, and locally owned and operated businesses with our amazing cloud-powered network of electronic bulletin boards.
Digifli is sustainable and uses all recycled e-waste screens that were destined for the dump. We give them a second life. We work with great organizations like StopWaste and Tech Exchange Oakland.
We don't allow ads from national chains, because national chains are a blight on humanity and they crush peoples souls. We are the rebel alliance and they are the Empire and we WILL defeat the Death Star!
Digifli sponsors local nonprofits like FAAS Animal Shelter and fundraisers like Autumn Lights at Lake Merritt Gardens and Oktoberfest in Oaklands Dimond district.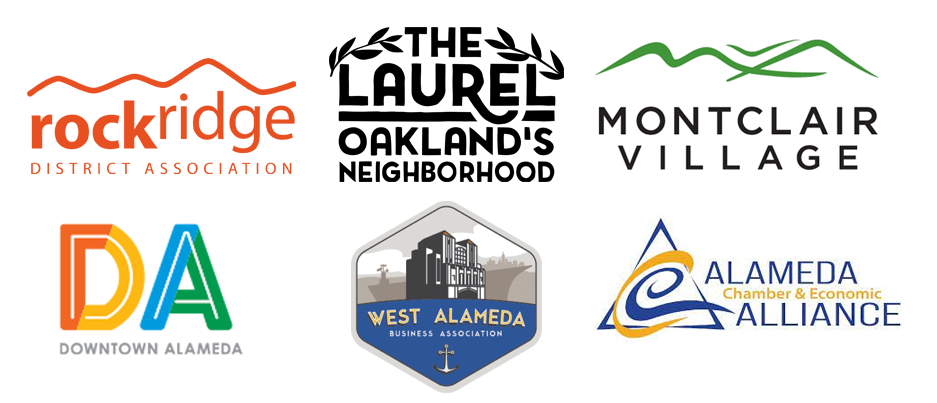 Digifli partners with neighborhood business associations and BIDs to provide a dynamic communication tool for the local community. We Currently partner with seven East Bay associations that represent over 1300 locally owned and operated businesses.
For every ad package purchased, we donate more impressions to local nonprofits, so advertising on Digifli isn't just a great way to reach the community, it also directly benefits those communities!
You should support our advertisers! They are all local and they support the community. Check out a comedy show at Alameda Comedy Club, or live music at Yoshi's. Grab a beer at Fireside and check out Park Social and Embarc dispensaries. Get a trim at Blitz, do some Yoga or catch an event at Rhythmix or the USS Hornet! You can see all current ads on digifli.com
Digifli was invented in 2017 in Alameda, California. The company was launched by the founders Wes and Jess Warren. Since inception, we have placed over 160 community bulletin boards in the East Bay, primarily in Alameda and Oakland. We add new locations every week.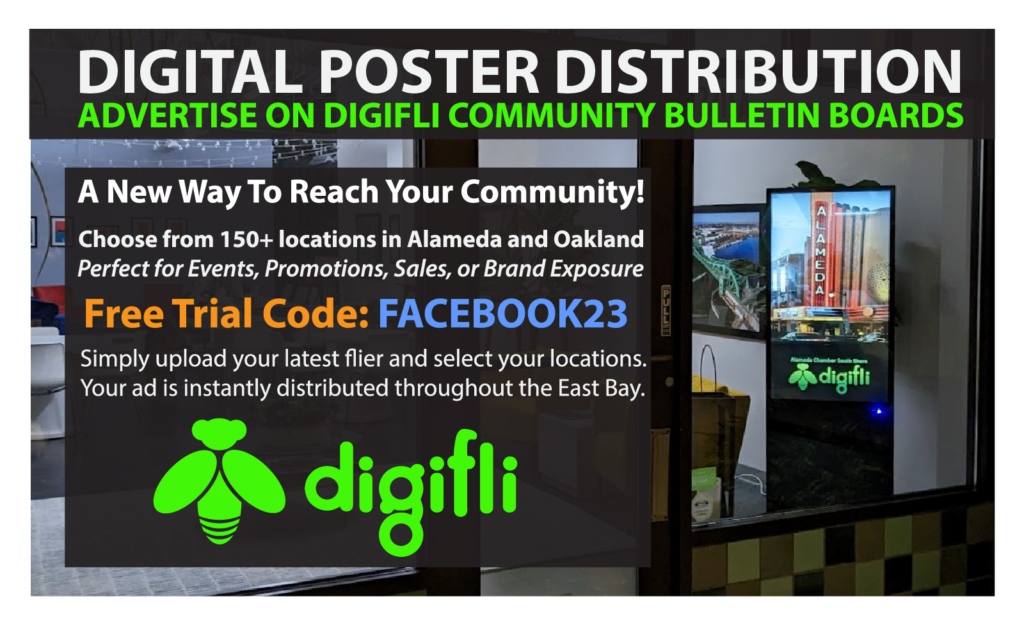 You can find Digifli bulletin boards in restaurants, Boutiques, Grocery Stores, Taverns, Coffee Shops, Taprooms, Museums, Dispensaries, Gyms, and many more. In 2020 before Covid hit we had 130 locations. You can see the entire list of all active Digifli locations here. Click the business name to see what they are showing on their Digifli!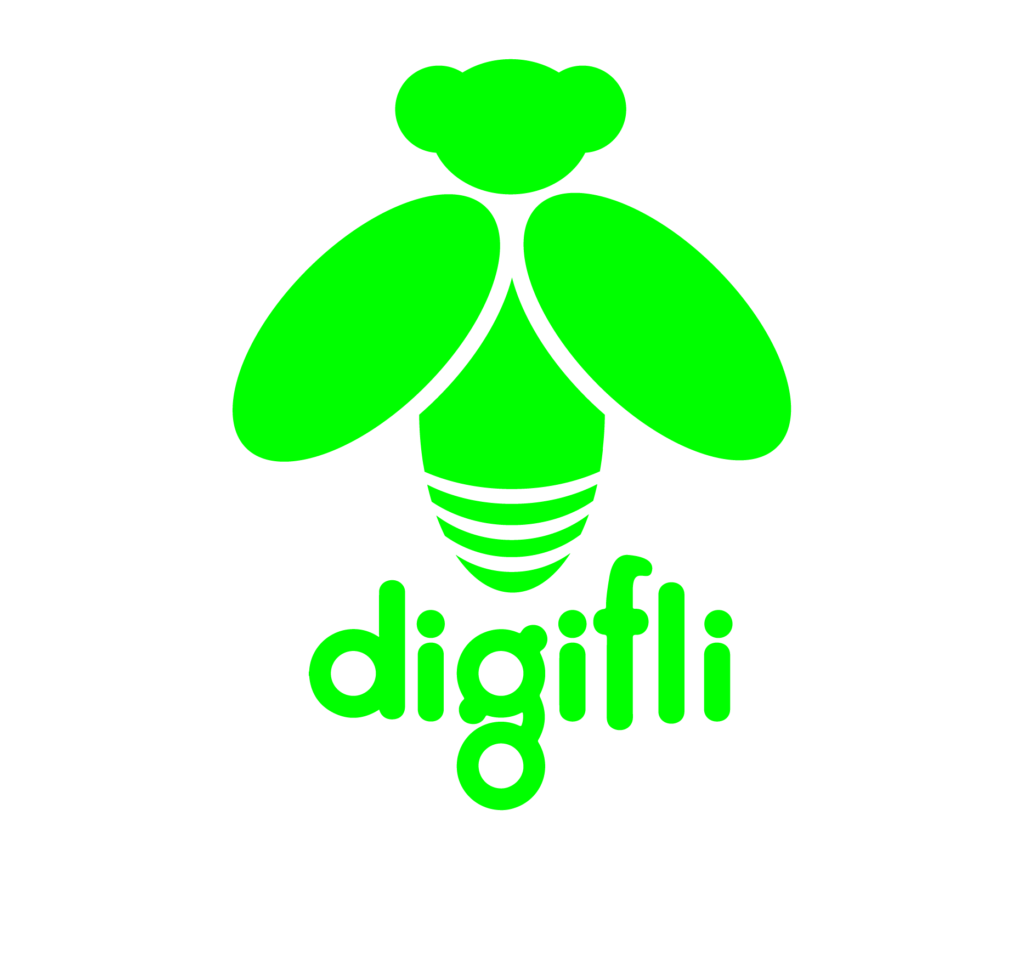 Let's work together to make communities better, reduce waste, encourage the arts, and support local businesses.
Want to see what's running on Digifli? Just click over to Digifli.com
Meet the team