All plans are priced monthly. You can set up billing as a recurring PayPal /Credit Card subscription or request an electronic invoice.
There are no contracts and you can go month-to-month. There may be discounts or other incentives (extra locations or impressions) to keep a recurring monthly package.
See our pricing plans here.
Yes. We keep detailed reports on every campaign.
We log every impression.
Our units "check-in" to our cloud servers every few minutes.  They check to see if there are any new campaigns to load. They also send back impression counts for each slide they show. We keep an active log of this and summarize it nightly.
You can see how many times your campaign showed each day, by location. You can also see what other slides are showing on each location.
Example Report: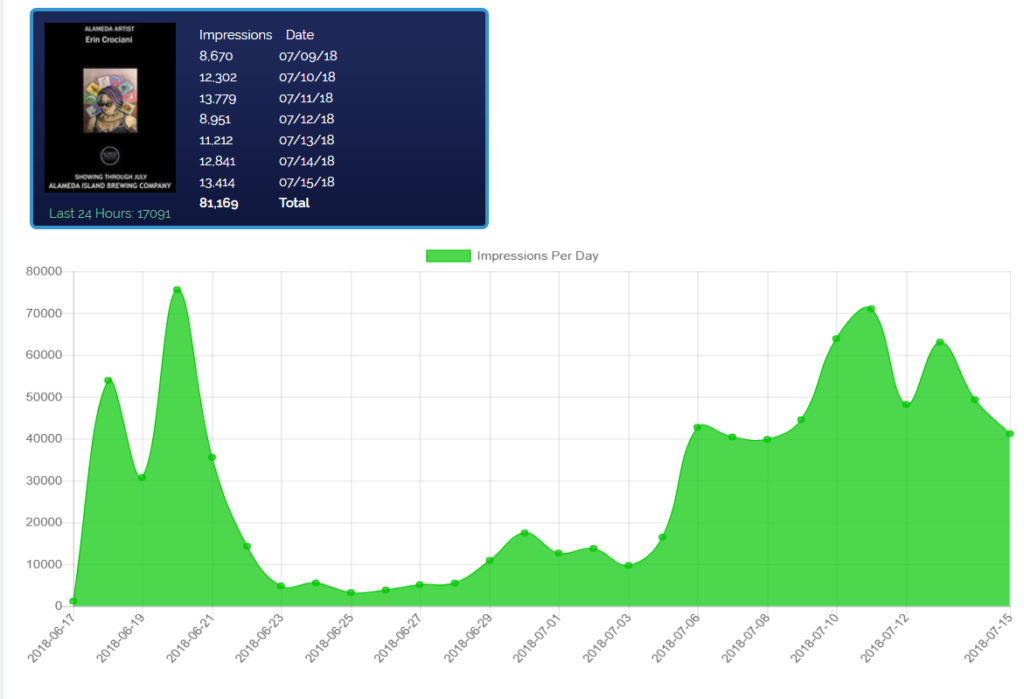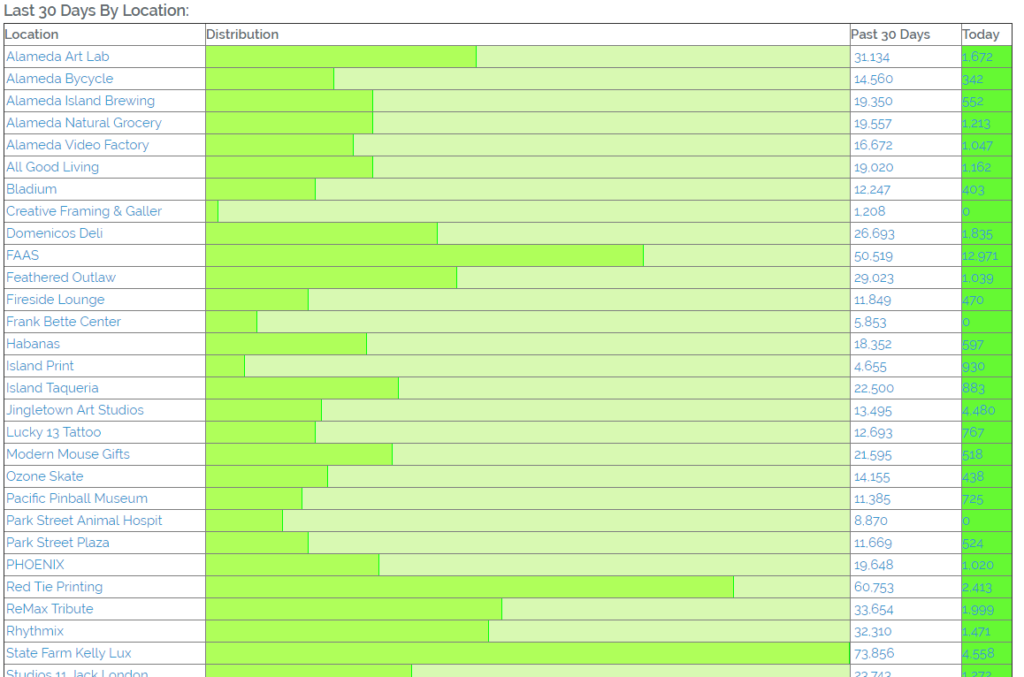 We have two current ways to be billed.
1. PayPal recurring monthly billing.
Register with the PayPal plan and it will automatically bill your credit card or PayPal account each month.
2. Emailed Invoice. 
We can email you an invoice if you prefer to pay by check. We invoice 2 months at a time.
Digifli screens show image (aka "slides") files like a digital picture frame. Each slide shows for approximately 11 seconds. Each screen is constantly rotating through all the slides assigned to that location.
Impression Count
Impressions are a count of how many times your slide is shown on a screen. For example, if your plan comes with 2000 daily impressions, your campaign(s) will show at least 2000 times per day.
The impressions are distributed across all the locations you select. For example, if you select 10 locations, then your campaign will show a minimum of 200 times each day in each of those 10 locations.
10 locations x 200 impressions = 2000 impressions per day
Campaigns Share Impressions
Impressions are equally distributed across your campaigns.
For example, if you only have one campaign running then it will show 2000 times per day. If you have two campaigns running, (eg. two slides) then each slide will show approximately 1000 times.
Your plan gives you a guaranteed number of impressions. These impressions are distributed across multiple locations and divided among your campaigns.
Reporting
We keep detailed reports for each campaign and every location.
You can change your campaign in real time with our web app. You can upload up to 10 files and toggle them on and off whenever you like. You can also change your locations in real time.
All new artwork has to be approved by our team to ensure it meets our quality guidelines. During normal business hours this usually takes less than 30 minutes.
Files must be in JPEG format.
At least 1024 x 1325
Files should be 72 dpi (standard web/screen resolution)
Vertical (portrait) Orientation
All files are resized to 1024 x 1325
Right click on the image below to download the template . You can paste your artwork right over this file.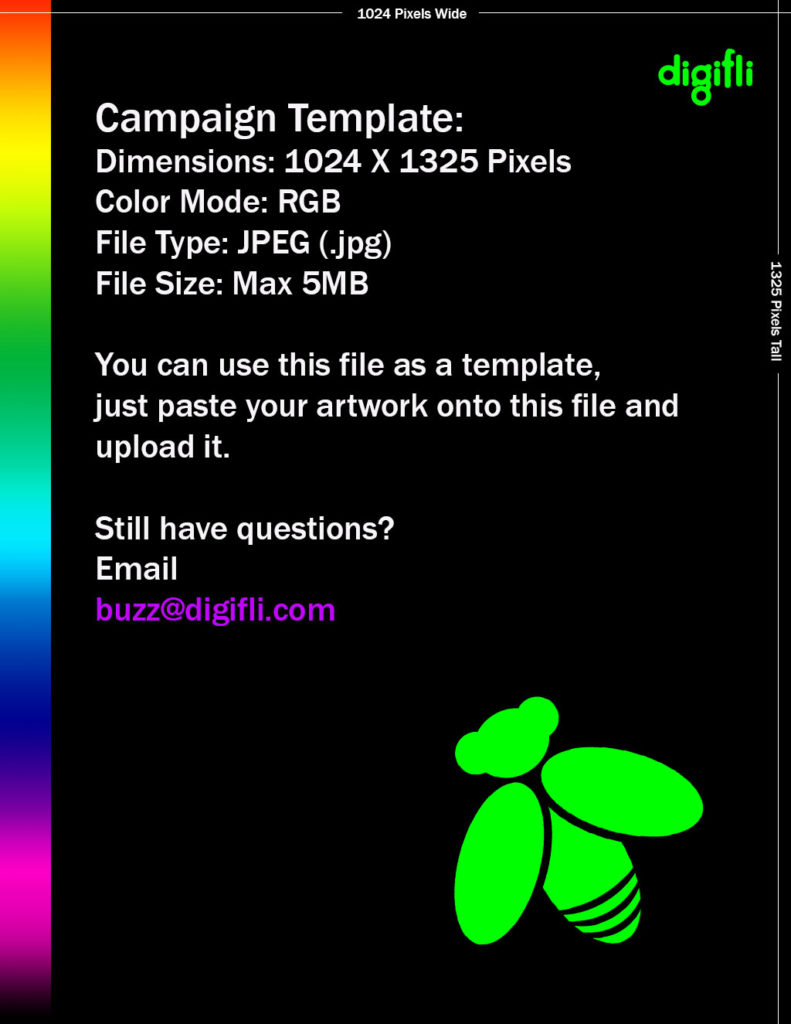 Advertising Best Practices
Content:
Each Digifli screen impression last 11 seconds. Use this time to grab the patrons attention and send them to a specified location where they can get more information.  We suggest your website.
The most important information on your ad will be your logo, contact information, dates and/or specials.  Remember to keep it simple.
Basic Digifli Ad Styles
Basic Business Introduction

Special Offer

Event

Synchronize:
Be sure your message is consistent across media channels.  Whether you are running an ad on Facebook, purchasing an ad in the local paper or printing your own flyers use a consistent visual message.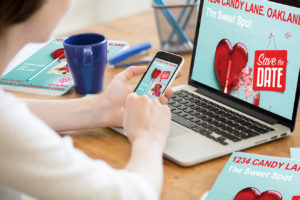 You can manage and control your campaign from anywhere. A mobile device,  or your home or office computer. Just log in to our website application and you can add new campaigns, change locations, view your statistics and more.
Check out the Quick Start Guide to see how it works.
Digifli Dashboard: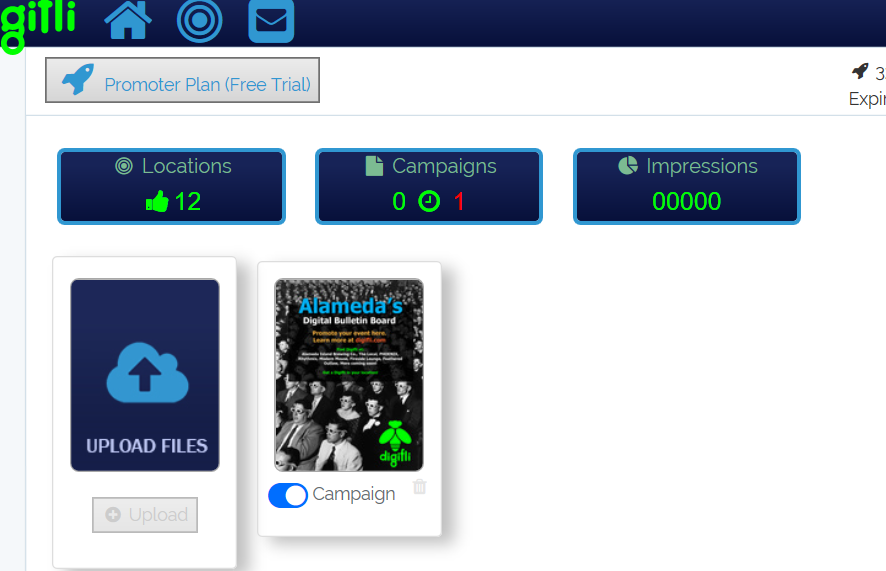 No. You do NOT need to have a Digifli screen installed in your location to advertise.
Anyone can advertise as long as your flier meets our quality guidelines.
Also – each location has the power to "veto" your campaign. If they do not like your campaign for any reason, they can block it from showing in their location.
Each location is unique. The Digifli kiosk is usually placed in a prominent location in a window on a busy pedestrian street, or inside often on a larger screen. When you design your campaign and select your locations, you can see details about each location.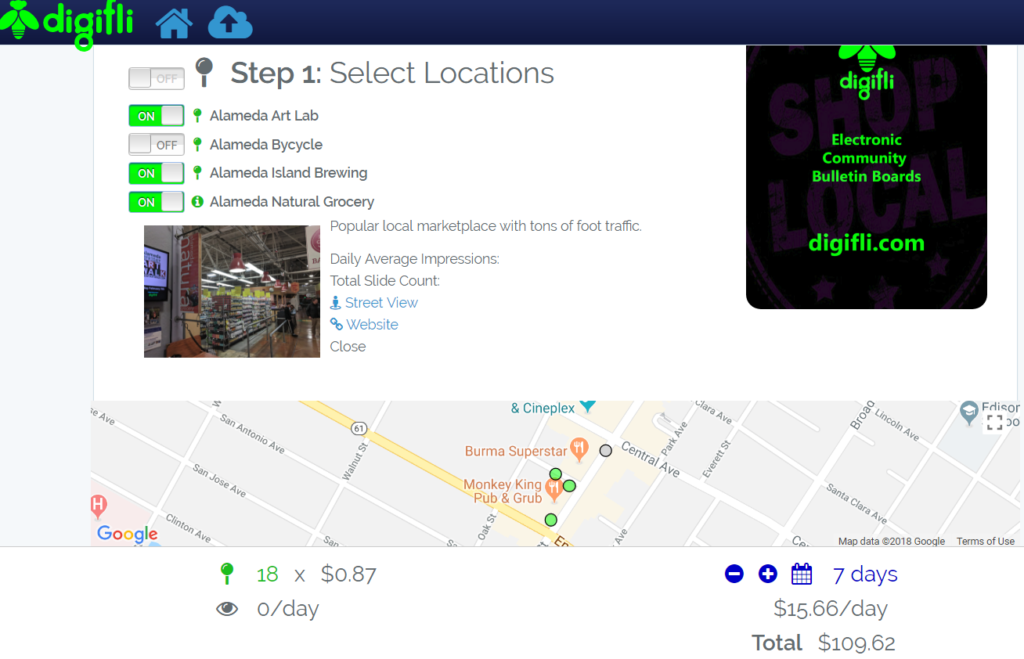 We provide detailed reports on how often your ad appeared each day.  Including a summary of your views graphed monthly.
Daily total counts for each campaign.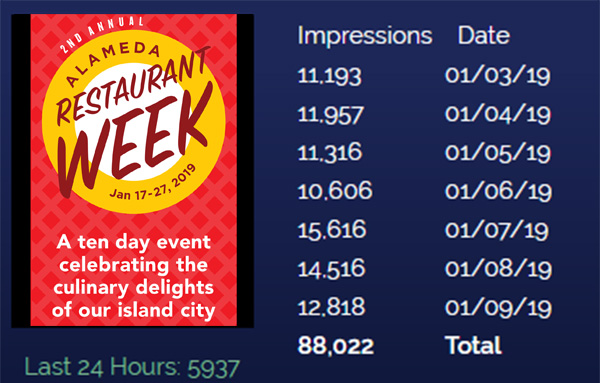 Impressions broken down by specific location.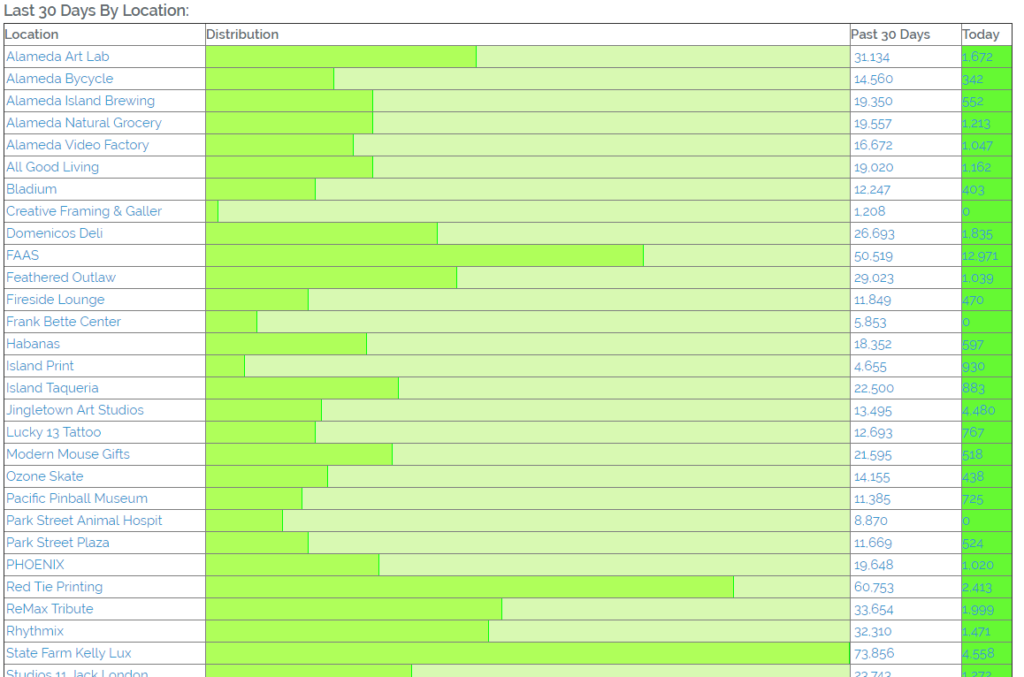 Packages start at less than $100 per month.
See Pricing
All campaigns must meet our quality guidelines. Essentially this means "It supports the community or local business" – so essentially this means you will not see ads for Budweiser, Taco Bell, Walmart or other national chains.
Digifli is meant to support and strengthen our local community.
This covers campaigns that are run in multiple locations. However, each location has control over what their kiosk shows. So technically, you could possibly see an ad for Taco Bell if the store uploaded it to their screen – but it would not be approved for a campaign.
Check out some of our first advertisers here.
You can think of Digifli as a bulletin board. Each place can put their own fliers up, but if we are going to distribute the fliers to all places, they must meet our quality guidelines.
You can see what people have on their digifli with the Digifli mobile website.